Late Sani Dangote: Tinubu Speaks, Points Out 'The Impossibility of Life ▷ Nigeria news
The national leader of the All Progressives Congress has described the death of Sani Dantata as the will of Allah
Bola Tinubu made this disclosure when he visited Sani's uncle Alhaji Aminu Dantata in Kano state on Friday, November 19
The APC leader said if money could buy life, the late Sani would still be breathing despite all the obstacles
As tributes continue to pour in for the vice president of the Dangote group, Sani Dangote, the national leader of the All Progressives Congress (APC), Bola Tinubu, has joined in the numerous eulogy.
Daily Trust reports that Tinubu while visiting Aminu Alhassan Dantata, the patriarch of the Dantata and Dangote families said if Sani's survival had been dependant on money, friends, relatives and associates would have rallied around to ensure he did not have to die.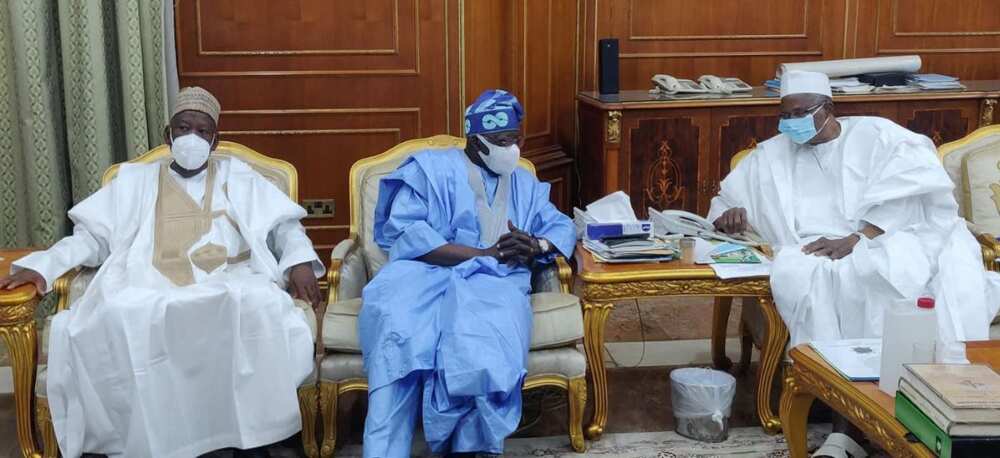 Tinubu described the death of Sani who is also, Aminu's nephew and a younger brother to Aliko Dangote, one of Africa's richest businessmen, as a demonstration of the will of Allah.
Accompanied to Alhaji Aminu's residence by Abdullahi Ganduje, the Kano state governor, Tinubu said no one human has the power to change Allah's will for man.
Tinubu said:
"It (death) has shown the demonstrations of Allah's will. It is not money. If money can buy life, there is no worth that we will not pay."
"There is nothing anybody can do. But that is the way Allah has dictated. That is the way He has wished it. That is the way it has been written and no one has the power (to change it)."
He also said that he visited alongside his associates to ensure that they join the Dantata and Dangote family to mourn in the trying times.
Tinubu prayed that God will continue to keep Dantata alive to enjoy the joy and good health with a view to help in making Kano a great place.
He said:
"Our presence here is to share the loss with you so that you can feel better."
That you still have many children left. May God continue to spare your life and give you joy and keep you in good health and make you the father that you are to make Kano great, to make Nigeria peaceful in your lifetime and grant Sani Dangote Aljanah firdaus."
In his reaction, Alhaji Dantata appreciated that APC national leader and his associates for visiting his family.
Vanguard also reports that Tinubu with his entourage visited Aliko Dangote to commiserate with him over the passing of his brother.
He also prayed that God in his mercies grants them a safe journey back to their destinations.
Bola Tinubu consoles with Sani Dangote's elder brother, Aliko
Meanwhile, Legit.ng previously reported that one of Africa's richest businessmen had explained how traumatic it was for him to lose his younger brother.
Aliko said he felt so helpless watching his brother die without being able to do anything to help him survive.
He expressed his pain over the death of his brother when the national leader of the APC, Bola Tinubu, visited him and his family in Kano.
Senate president, other lawmakers in Kano for Sani's funeral
Nigeria's Senate president, Ahmad Lawan, travelled to Kano state alongside some other lawmakers for the funeral of Sani Dangote.
Lawan was in Kano on Wednesday, November 17 to join the burial of Sani who died on Sunday, November 14, in a United States hospital.
He described Sani as a great entrepreneur who brought his business ideas to impact positively on the Nigerian and African economies.
Source: Legit